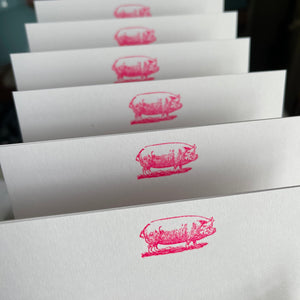 These cards are irresistible and Fresh off the press!
Bright neon pink and a scrumptious chunky piggy, what is not to like? 🐖
How many people do you know who would love this set? They make a perfect stocking filler or additional birthday present for someone who loves either pigs or pink! or why not keep them for your self? Pop them in your stationery drawer for the right moment to pull out and write on...
8 postcard style cards in each pack (350gsm) Pristine white. 8 Pale Grey premium envelopes. Tied with a matching grosgrain ribbon.
All my cards are hand letterpressed on a vintage Adana 8x5 letterpress, using vintage lead type, wooden blocks and ink.
All colourplan card and premium envelopes used are FSC rated and are biodegradable and the cellophane protective wrapping is made of biodegradable corn starch
All printing and packaging is done by myself with love, care and attention. I am passionate about the quality, detail and presentation of each card. As all my cards and hand printed each one is individual and unique and slight differences may appear in the colour and print of the ink. This is perfectly normal and is what I love about hand printing, each card will have individual character rather than the 'mass produced factory perfected' look.